Looking for the best oyster knives to shuck your own oysters?
You're in the right place.
Oyster knives might be a specialty tool but they are an absolute must if you want to enjoy the freshest oysters in the comfort of your own home.
Oysters are a delicious addition to seafood dishes from stir-fry to soup.
Here in the United States they're also commonly served raw on the half-shell with seasoning and sauces to complement the taste.
While it's always safest to enjoy oysters cooked they're a delicious treat with any preparation.
You can also feel good eating oysters since they are a relatively nutritious and low-calorie seafood. Typical oysters have very little fat or carb content and are high in protein. Like most seafood, oysters also offer some important vitamins and minerals making them a great addition to any diet.
You can buy oyster meat pre-shucked. It's available raw and cooked. Unfortunately, pre-shucked oysters will always taste different than fresh oysters no matter how they're prepared.
That's why having your own shucking knife is so important. With the proper equipment you can buy or harvest your own oyster shellstock (Shellstock are live oysters sold with both shells intact. The shells are usually closed.) and prepare them at home.
Oyster knives are relatively distinct from other knife designs. The qualities that make a good chef's knife, for instance, make for a bad oyster knife. I'll discuss the important differences as well as reviewing some of the best oyster knives to help you pick the right tool for you.
In this guide, you'll learn:
The most important qualities in an oyster knife
Safety precautions you should take while shucking
Which oyster knives are the best you can get right now
And much more!
Below is a quick list of my favorite oyster knives for shucking. Keep scrolling to learn more of my top tips to choose and use the best oyster knives. 
Image
Product

Oyster Shucking Knife Set of 2 - Professional Oyster Knife

2 Knives included

Real wood handles

Carry case included

2 Knives included

Real wood handles

Carry case included

View on Amazon

Oyster Shucking Knife and Gloves Set

Real wood handle

Protective gloves

Included oyster shucking guide

Real wood handle

Protective gloves

Included oyster shucking guide

View on Amazon

OXO Good Grips Stainless Steel Non-Slip Oyster Knife

Dishwasher safe

No slip handle

Stainless steel

Dishwasher safe

No slip handle

Stainless steel

View on Amazon

Best For A Variety Of Oysters

Best For A Variety Of Oysters

WENDOM Oyster Knife Shucker Set

Protective gloves

Plastic oyster holder

2 knives included

Protective gloves

Plastic oyster holder

2 knives included

View on Amazon

HiCoup Oyster Shucking Knife & Glove - Shucker Kit

Leather sheath

Pakkawood handle

Protective gloves

Leather sheath

Pakkawood handle

Protective gloves

View on Amazon
This set comes with two different oyster shucking knives. Both versions of the knife are pretty similar, the main difference is the handle.
They feature two different beautifully finished woods.
The knives both have a full tang for added stability and durability.
Plus, the classic riveted design adds some appeal to the design. From tip to handle these knives are designed for maximum durability.
The fine tips on these knives are easy to insert into the oyster shells easily and quickly. The included storage case is a beautiful place to keep your knives. It's also small enough to carry with you when you're headed to the beach, and durable enough to live in your kitchen drawer just as easily.
As an added bonus there is an included ebook that you can use to learn more techniques for oyster shucking, and to find the most efficient means of using your new knives.
Top 5 Best Oyster Shucking Knives
In a hurry? Check out my top 5 picks below! Keep reading to learn more about the best knives for oyster shucking.
What are the Advantages of a High Quality Knife for Oyster Shucking?
Oyster shucking isn't exactly difficult but it isn't exactly easy either. The best oysters are tightly closed and it takes some effort to get them open. You also want to be careful not to hurt the oyster muscle itself while opening its shell. Just as importantly, you don't want to spill the flavorful liquid around the oyster in its shell.
That liquid, called 'oyster liquor', is where a lot of the flavor and enjoyment comes from.
Not sure what the shucking process looks like? Here's a video with two quick demonstrations on how to shuck east and west coast oysters to serve on the half shell.
Looking to enjoy another classic fish? Check out my list of the best electric knives to fillet catfish!
Having a high quality oyster shucking knife makes the whole process easier.
You should know that a good oyster shucking knife breaks a lot of the rules of a good knife. For one thing, oyster shucking knives are made from thicker material and don't have a very sharp edge.
That thickness makes it easier to pry apart an oyster shell. Thinner metal would likely just bend. A blade with a fine edge on it would chip and break apart more easily. Neither outcome is desirable. Getting a high quality oyster knife helps ensure that your oyster knife has the features it needs to be durable and effective.
Purchasing a high quality knife also often means that you get a lot of the other accessories you need with the knife. That saves you money in the long run since you won't need to run out and buy other oyster shucking tools after your knife arrives.
The last major advantage of high quality oyster knives is that they tend to be more comfortable than cheaper alternatives. The handles have more care put into the design. That means that they're both more durable and provide better grip points.
Some high-end oyster knife handles also provide better leverage so you can open oyster shells with less pressure.
Want some fresh sushi to go with your fresh oysters? Why not make it yourself with a knife that makes cutting sushi a lot easier!
How to Pick the Best Oyster Knife for Shucking?
Size:
Oyster knives are supposed to be relatively small. The blade of the knife itself should be about 3 inches long. Slightly shorter is better than longer when it comes to oyster knives. That's because longer blades are more prone to bending while you're shucking your oysters.
Even minor unintentional bends in the knife can make your job more difficult. Once your knife has too many bends it's time to replace it.
Keeping the knives short and relatively thick helps them last a lot longer.
The handle should be at least as long as the knife blade. That means you're looking at a total length of at least 6 inches. If your oyster knife is longer than that you should make sure the extra length comes from the handle.
Material:
Ideally your knife should be made from stainless steel. It's harder than plain high-carbon steel which makes it the better option for this kind of knife. Stainless also holds up better to the torque you'll use to pop oyster shells open.
There are some oyster knives that are made from high-carbon stainless. That's a good option since you'll get some of the advantages of high carbon steel as well as the advantages of stainless.
Avoid oyster knives that are made from lower quality steel. These knives need to be hard. Hardness is one of the first qualities you lose as you start to go down in steel quality.
Design:
There are several different oyster knife designs but the most important features are all in the blade. You're looking for a 2-3 inch stainless steel blade with edges on both sides. The edges should be very straight.
However, the while knife might curve up slightly in some designs. That's because a curved knife works a little better for some edible varieties of oyster. Whether you prefer this design or not is largely a matter of preference and what kinds of oysters you regularly eat.
I will note that you may want a slightly thinner oyster knife (emphasis on slightly) if you're mostly going to be eating west-coast oysters.
Handle:
The main concern with the handle on your oyster knife is that you're able to maintain a good grip on it. You should also consider how water resistant the grip is.
Shucking oysters is almost always slightly damp. That's because of the water from the ice you need to store oysters on and also the oyster liquor inside every shell.
Some people prefer a shorter rounded handle for oyster shucking. Other people prefer a longer handle that gives you more leverage to cut through the muscle of the oyster.
Plastic and wood are the two most common materials. Both are good options but plastic handles often have more texture for grip.
Avoid metal handles. Metal is usually just too slick to work well as an oyster shucking knife handle.
Still looking for more seafood? I get it. Why not check out my list of the best knives for salmon to make it even easier to enjoy that delicious fish along with your oysters.
My Reviews of the Oyster Knife for Oyster Shucking
1. Melocean Oyster Shucking Knife Set of 2 (My Top Pick)
Product Features:
2 knives
Full tang
Real wood handles
Convenient storage box
6.3 inches long
Stainless steel
Lifetime Warranty
The design of these knives looks pretty straight forward at first glance.
However, the overall design is actually more complex and functional than you would expect.
The handle is slightly longer than the blade on these knives. That gives you additional leverage as you're opening your oysters.
The knives are made from highly durable steel that resists bending and breakage, even with prolonged use.
This set also some with it's own storage case. It's nice enough to serve as a gift box, and durable enough to take with your to the beach.
Backed with a full lifetime warranty, you can count on these knives to stay with you for years of oyster shucking to come.
PROS (+)
CONS (-)
+ Durable steel for longer use, these knives are unlikely to bend or break
+ Design is suitable for most types of oysters
+ Longer handle for better leverage to get into oysters
+ Beautiful wood finish on the handles
+ comes with their own storage case for easier travel to and from oyster beds.
– Not dishwasher safe
– Wooden handle might need refinishing after prolonged use. Especially if you use them directly in salt water.
2. Oyster Shucking Knife and Gloves Set – Premium Oyster Knife and Oyster Shucking Glove Kit (Best High End)
Product Features:
1 knife
1 set of protective gloves (one size fits most)
Full tang blade
6.3 inches long
Lifetime warranty
Now, I know that this is the same brand as my top pick option. In fact, this knife set includes a very similar knife along with protective gloves, a brochure, and a helpful e-book to help you find great oysters.
I was hard pressed to find a high end knife I liked better than the top pick, and honestly, I realized that the knife I was looking for probably didn't exist.
But this kit, which is a more complete kit to help you get started and keep you safe while oyster shucking, is a fantastic option. While my top pick is a good option if you want two knives, or if you need multiples to equip your family, this version is the best deal for added safety.
The full tang design is also great for the added durability and versatility of this knife.
A full lifetime warranty and satisfaction guarantee just adds to the value of this design.
PROS (+)
CONS (-)
+ Comes with protective gloves to keep your hands safe
+ Helpful guide is a great aid to beginners and advanced oyster shuckers
+ Complete kit for one
+ Incredibly durable knife design
+ Blade thickness provides additional strength
– Sharper design is best for intermediate to advanced users
3. OXO Good Grips Oyster Knife with Non Slip Handle (Best No-Slip Design)
Product Features:
Moisture resistant high-grip handle
Dishwasher safe
6.78 inches long
Stainless steel blade
Curved tip for easier oyster access
For a more budget option this shorter slimmer oyster knife is a great bargain. It's actually one of the more effective designs out there despite it's low cost.
That combination of low cost and high effectiveness is thanks to a particularly efficient design. The short blade comes to a slightly rounded point. That gives you leverage and cutting power without making it too easy to accidentally cut into the oyster.
The metal is just thick enough to give you the separating power you need without being so thick it's hard to get into the oyster shell.
This model doesn't come with any additional safety equipment. That's not a huge loss since the design is so efficient. You can also use a kitchen towel to help steady the oyster and protect your hands if needed.
Fortunately, the grippy and moisture-resistant handle adds a lot of safety since it's a lot harder for the knife to slip in your hand. You'll have a lot more control, even if your hands are wet or your grip is starting to go after shucking a lot of oysters.
This option is one of the most popular oyster shuckers out there in part because it's a lot easier for people to use even if you have hand weakness, a mild tremor, or just aren't used to shucking. This is the shucker I would recommend if you're worried about losing your grip while you work.
PROS (+)
CONS (-)
+ Highly affordable option
+ Very efficient compact design, great for packing a lot of knives for a group outing
+ Slim design is versatile and easy to use on common oyster varieties
+ Grippy handle for better control
– Doesn't come with any additional safety equipment
– Handle is a little too short for some users
4. WENDOM Oyster Knife Shucker Set Oyster Shucking Knife and Gloves (Best For A Variety Of Oysters)
Product Features:
2 knives included
Plastic oyster safety holder
One size fits most safety gloves
Stainless steel spear point blades
Knives weigh approximately 3 oz. each
This shorter wider knife design is a good hybrid between different oyster shucking knife designs.
The combination means it works well as an all-variety shucking knife. No more bringing several different oyster shucking knives, each one best for a different species or oyster shape.
The more blade-like profile might look a little odd at first glance, but it's just as effective as the flatter blade designs. The longer than average handle also helps to give you better leverage. That keeps you safer since you won't need as much force to open the oyster shell.
The set also comes with additional safety equipment to make oyster shucking even safer. It includes a small oyster holder to protect your hand and the oyster.
You'll also get a set of cut-resistant oyster shucking gloves that protect your fingers in case the oyster knife slips.
PROS (+)
CONS (-)
+ Comes with lots of additional safety equipment, perfect for beginners
+ Works well as an all-variety oyster shucker
+ Longer handle for better grip and leverage to make shucking easier
+ 2 for one blades perfect for dates and family osyter trips.
– Not dishwasher safe, everything needs to be hand-washed
5. HiCoup Oyster Shucking Knife & Glove – Shucker Kit (Best for Gifts)
Product Features:
Leather Sheath
Set of puncture resistant gloves
2.5 inch blade
High Carbon Steel
Pakkawood handle
This set gives you a basic kit that includes everything you need for your first oyster hunt. The sheath and gloves make the set a lot easier to use, and are reliable enough to be safe for beginners.
High carbon steel ensures that the blade is strong enough to handle opening oyster shells without bending.
The design is also beautiful and attractive in your hand, with a comfortable pakkawood handle that dealt with getting wet with saltwater a lot better than I expected! The striking grain and fine finish on this knife makes it a good option if you're looking for a gift set, and equally suitable as a flashier upgrade to your own oyster shucking knife.
Plus, this set is more affordable than a lot of premium blades, which means it's an accessible upgrade or gift that won't break the bank!
PROS (+)
CONS (-)
+ Beautiful pakkawood handle makes for a good gift
+ High carbon steel is less prone to bending or breaking
+ Ergonomic design makes oyster shucking easier on your hands
+ Complete set perfect for upgrading your kit or getting started as a beginner
– The blade is less flexible, which makes it hard to detach oysters and remove them from an opened shell
The fact that you get two knives with this set is one of my favorite features. Like the other dual sets on this list, using these knives makes it easier to shuck oysters with friends and family.
The durable design on these knives means that they may well be the last oyster shucking knives you need. They will need occasional maintenance, mostly oiling the wooden handles if they spend too much time in salt water.
But that maintenance is minimal when you consider how much time you'll save while shucking your oysters.
The versatility of these knives also means that you can buy whatever variety of oyster your local fishmonger has in stock. The thin design is still durable enough to open the most durable oyster shells, while also delicate enough to help with more fragile shells.
Combine that with the longer handles and the Melocean Oyster Shucking Knife Set of 2 really is the complete oyster shucking package.
Final Thoughts On The Oyster Knives for Shucking Oysters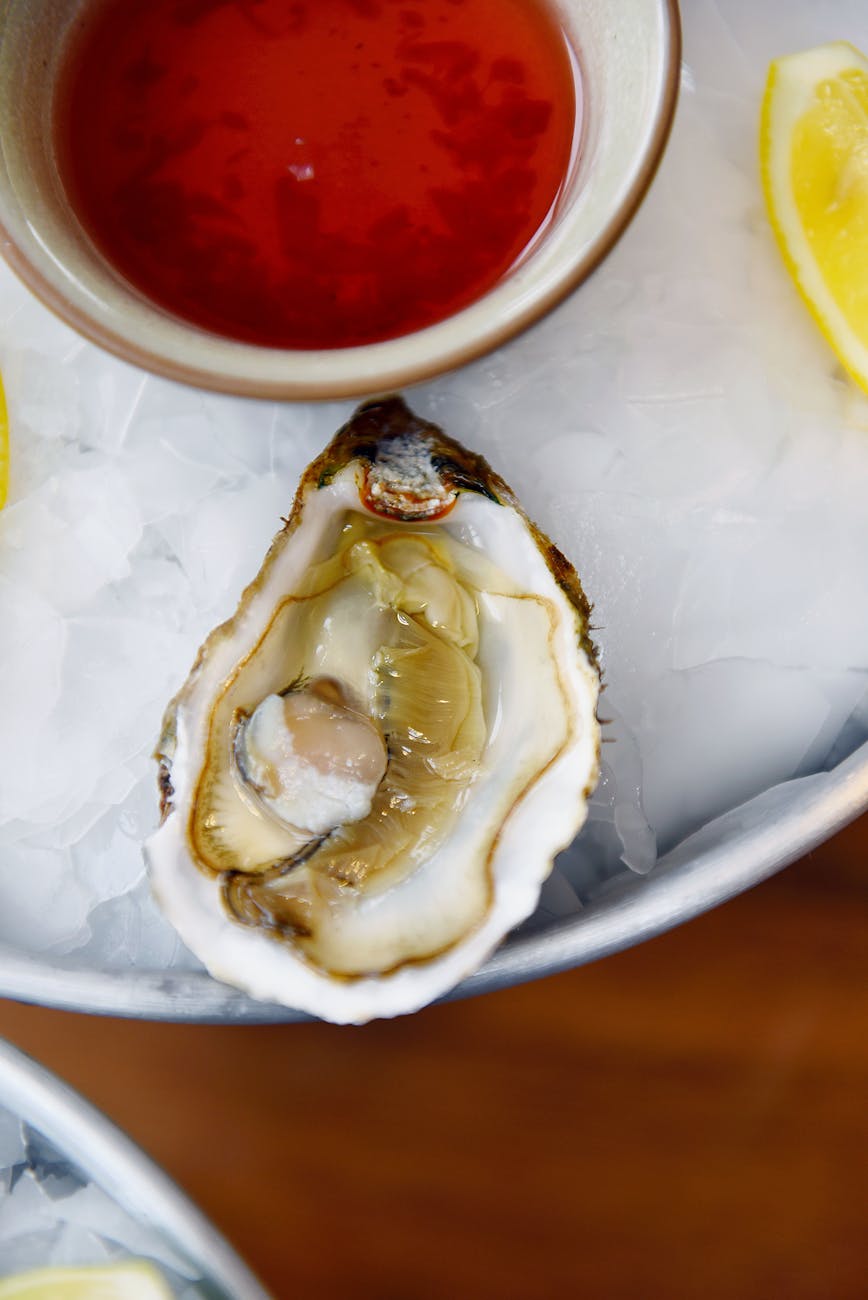 Since oyster shucking knives are generally pretty affordable you may want to consider playing around with a couple of different designs. While my top pick shucker is meant to be an all purpose design that doesn't guarantee that it's going to be the easiest design for you to use.
You should also consider where you're most likely to be shucking oysters. If you mostly shuck oysters at home you probably don't need a travel sheath. If you tend to collect your own oysters and eat them on the beach a travel sheath will make things a lot easier.
Ultimately it's all about how you'll make the most use of your new oyster shucker. Having the choice of a couple different designs will help you hone in on what type of shucker works best for you.
Of course, you'll also be able to enjoy the delicious fresh oyster results while you experiment!